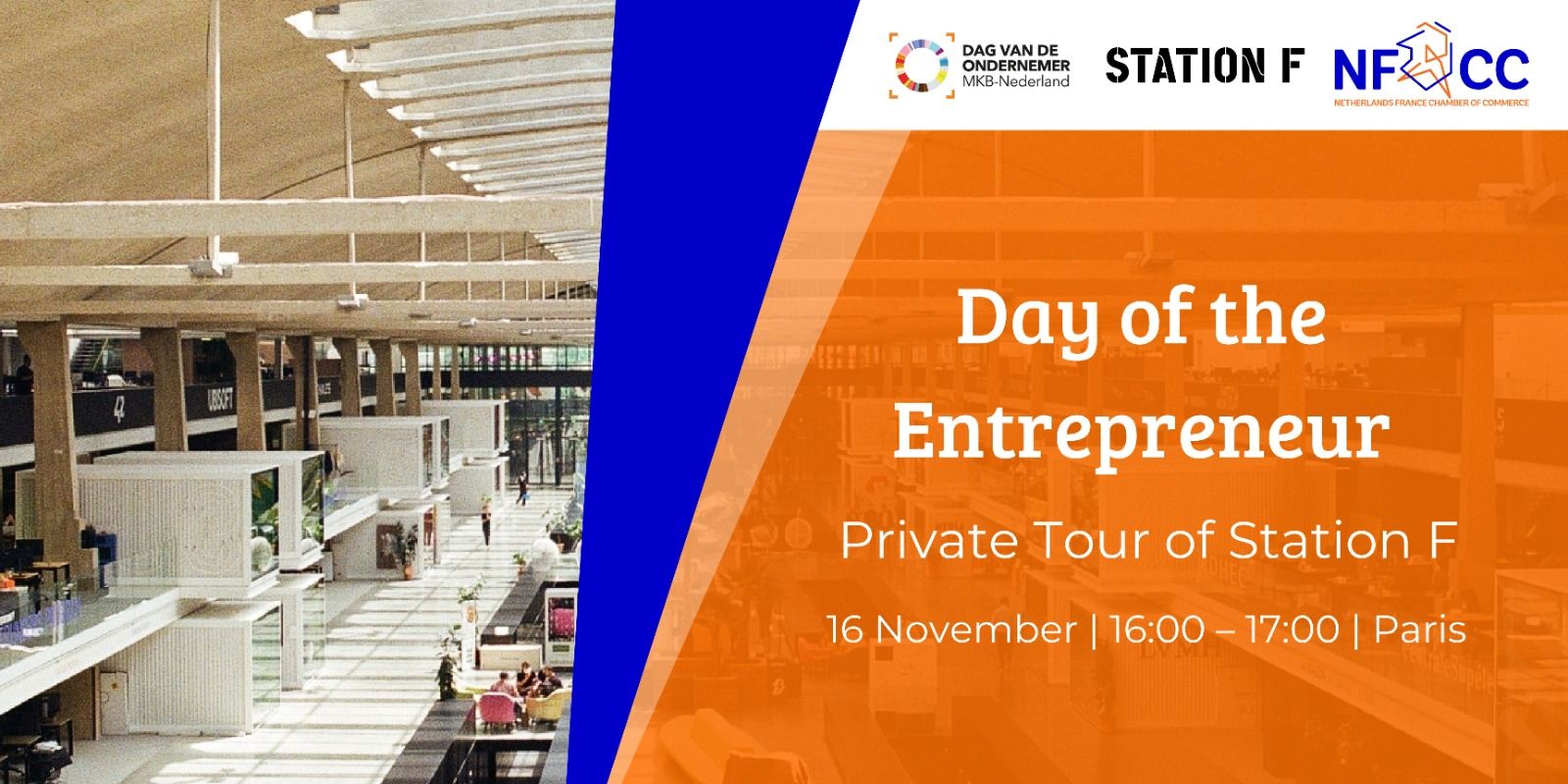 More about event
We are thrilled to invite you for a remarkable experience in celebration of the Day of the Entrepreneur (Dag van de Ondernemer). At the Netherlands France Chamber of Commerce, we understand the passion and dedication that goes into entrepreneurship, and we want to show our appreciation for your commitment to innovation and business.
As a token of our admiration, we are offering you a special gift: a private tour at Station F, one of the most iconic hubs for innovation and startups in Paris. This tour is designed to inspire and inform, and we believe it will be a great experience to learn more about the concept of Station F.
Event Details:
Date: November 16th
Time: 16:00
Duration: Approximately 45 minutes
Location: Station F, 5 Parv. Alan Turing, 75013 Paris
What to Expect:
Discover the history and creation of Station F.
Explore the cutting-edge facilities and event venues.
Gain insights into Station F's remarkable partnerships and support programs.
Get a glimpse into the vibrant startup ecosystem at the Create Zone.
Opportunity for a drink after at La Felicita.
To confirm your participation, please RSVP by 2nd of November by clicking on the button "Sign up for event".
We look forward to celebrating the spirit of entrepreneurship with you and sharing this exceptional experience at Station F. It's our way of saying thank you for your dedication to making a difference in the world through your entrepreneurial endeavours.
If you have any questions or need more information, please feel free to contact Noor Kleijweg via nk@nfcc.fr.
Let's explore innovation, history, and creativity together at Station F on this special occasion!
This private tour requires a minimum of 10 participants to ensure an exclusive experience. Hence we will inform you two weeks in advance if the tour is still on. The event is members-only.
NFCC: Celebrate Day of the Entrepreneur
Date

16 November 2023

Time

4:00 PM - 5:00 PM
Organisation
Netherlands Business Council France